Posts for tag: crowns
By Morris Plains Family Dentistry
April 18, 2019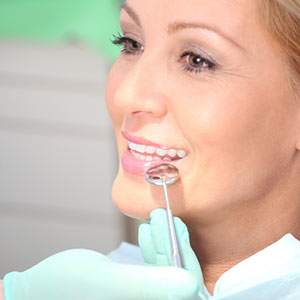 With its life-like color and texture, dental porcelain can restore a smile marred by decayed or damaged teeth. This durable ceramic material not only matches the varieties of individual tooth colors and hues, its translucence mimics the appearance of natural teeth. But perhaps its greatest benefit is its adaptability for use in a number of different applications, particularly veneers and crowns.
Veneers are thin layers of dental porcelain laminated together and permanently bonded to cover the visible outer side of a tooth to improve its appearance. Crowns, on the other hand, are "caps" of dental porcelain designed to completely cover a defective tooth.
Veneers and crowns share a number of similarities. Both can alter the color and shape of teeth, although crowns are used when more extensive tooth structure has been damaged. They're also "irreversible," meaning the tooth must be altered in such a way that it will always require a veneer or crown, though on some occasions a veneer can require no removal of tooth structure and can be reversible.
They do, however, have some differences as to the type of situation they address. Veneers are generally used where the affected teeth have a poor appearance (chipped, malformed or stained, for example) but are still structurally healthy. And although they do generally require some removal of tooth enamel to accommodate them (to minimize a "bulky" appearance), the reduction is much less than for a crown.
Crowns, on the other hand, restore teeth that have lost significant structure from disease, injury, stress-related grinding habits or the wearing effects of aging. Since they must contain enough mass to stand up to the normal biting forces a tooth must endure, a significant amount of the original tooth structure must be removed to accommodate them.
Which application we use will depend upon a thorough examination of your teeth. Once we've determined their condition and what you need, we can then recommend the best application for your situation. But regardless of whether we install a veneer or crown, using dental porcelain can help achieve an end result that's truly life-changing — a new, younger-looking smile.
If you would like more information on dental porcelain restorations, please contact us or schedule an appointment for a consultation. You can also learn more about this topic by reading the Dear Doctor magazine article "Porcelain Crowns & Veneers."
By Morris Plains Family Dentistry
September 20, 2018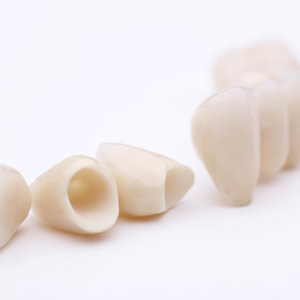 Crowns are a mainstay of cosmetic dentistry used to improve your smile's appearance in a variety of situations. Not all crowns are alike, though — and the differences could affect your cost.
Crowns or caps are needed to cover remaining tooth structure which was previously damaged. Tooth decay and trauma are the major reasons for damage or loss of tooth structure that make crowns necessary. After preparing the remaining healthy tooth to fit into the new crown, we then make an impression mold of the tooth for a dental technician to use to create the new crown. It's at this point where the road to your new smile can take different paths, both in construction and how much artistry goes in to your crown's formation.
Porcelain crown construction falls into two general categories. The first category involves life-like porcelain fused to an inner core of metal. Because many older types of porcelain tend to be brittle and subject to breaking under pressure, metals are used to strengthen the crown. A fused crown can thus provide both durability and a life-like appearance.
In recent years, though, new dental materials have made the second category — all porcelain crowns — a viable option. Either lithium disilicate or zirconium oxide account for nearly two-thirds of crowns made today. Although research on their durability is relatively new, initial results have been encouraging, showing advanced all-ceramic crowns can tolerate forces comparable to porcelain fused to metal (PFM) crowns used in bridges.
On the downside, these newer materials may be more expensive than PFM crowns. Costs for manufacturing may also increase depending on how life-like the matching of color with other teeth you desire your crown to be. For example, individual teeth aren't a uniform color — there are gradations of color that can vary from the tip of the tooth to the root. To capture these gradations in an individual crown requires a high level of artistry and time by the dental technician, which increases the final cost.
If you're in need of a crown, it's best to first make an appointment for a consultation to review your options, and to consider both your expectations and financial ability. Together we can determine what it will take to create a new look for your teeth that fits your expectations and your budget.
If you would like more information on dental crowns, please contact us or schedule an appointment for a consultation.
By Morris Plains Family Dentistry
July 02, 2018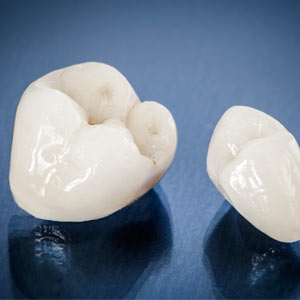 If you're in need of a crown to cover a damaged tooth, you have a lot of options. But before you choose, you need to know what you want. Would you be happy with an affordable, well-fitting crown that holds up well and allows you to chew comfortably? Or are you interested in a more expensive one that also provides the most attractive result?
Crowns have been a mainstay in dentistry for generations. The first were made of metals like gold or silver — durable and effective but not very attractive.
In time, a ceramic material known as dental porcelain began to make its appearance in crowns. Dental porcelain could be fashioned to resemble the color and texture of natural teeth, but it had a significant drawback: it could be brittle and subject to shattering under chewing pressure.
This problem was somewhat addressed with the innovation of a crown with a metal substructure fused with an outer layer of porcelain. These porcelain-fused-to-metal (PFM) crowns combined the best advantages of both materials: strength and life-likeness. Up until around the mid-2000s, PFM made up over 80% of crowns.
But later porcelains continued to improve in strength, beginning in 1993 with the introduction of a Lucite-reinforced material. Newer formulations like lithium disilicate or zirconium oxide (now considered the strongest porcelain) have made all-porcelain crowns a viable option. Today, an estimated 60% of new crowns are all-porcelain.
From an appearance standpoint, all-porcelain crowns achieve the best results. The most realistic crown can be costly — not because of the material but the level of artistry required. A skilled dental technician will spend several hours, including brushing on as many as fifteen coats of liquid porcelain to the crown, to achieve the most life-like outcome. Your insurance plan, if you have one, will most likely not pay as high a percentage for that type of crown.
In the end, it's your decision as to what type of crown you wish to have. We'll help you weigh your options and decide what's best for you and your budget.
If you would like more information on crown options, please contact us or schedule an appointment for a consultation.