Posts for: February, 2018
By Morris Plains Family Dentistry
February 12, 2018
Did you ever brush your teeth and find that your gums were bleeding slightly? This unwelcome discovery is more common than you might think — and it might have something to tell you about your oral health. Here are five things you should know about bleeding gums.
As much as 90% of the population occasionally experiences bleeding gums. It happens most often while brushing — and it's often a sign of trouble, indicating that your gums are inflamed and/or you aren't brushing or flossing optimally.
Bleeding gums can be an early warning sign of gum disease. In its earliest stages, this malady is called gingivitis, and it's quite common. About 10 to 15 percent of people with gingivitis go on to develop a more serious form of gum disease, called periodontitis. If left untreated, it can lead to gum recession, bone loss, and eventually tooth loss.
A professional exam is the best way to tell if you have gum disease. Your dentist or hygienist may use a small hand-held instrument called a periodontal probe to check the spaces between your teeth and gums. When gum tissue becomes detached from the teeth, and when it bleeds while being probed, gum disease is suspected.
Other symptoms can confirm the presence of gum disease. These include the presence of pus and the formation of deep "pockets" under the gums, where gum tissues have separated from teeth. The pockets may harbor harmful bacteria, and need to be treated before they cause more damage.
Several factors may influence the health of your gums. How effectively you brush and floss has a major impact on the health of your gums. But other factors are important too: For instance, women who are pregnant or taking birth control pills sometimes have bleeding gums due to higher hormone levels. Diabetics and people with compromised immune systems often tend to have worse problems with periodontal disease. Certain drugs, like aspirin and Coumadin, may cause increased bleeding; smoking, by contrast, can mask the presence of gum disease by restricting blood flow.
It's never "normal" to have bleeding gums — so if you notice this problem, be sure to have an examination as soon as you can. If you have questions about bleeding gums or periodontal disease, contact us or schedule a consultation. You can read more in the Dear Doctor magazine article "Assessing Risk For Gum Disease."
By Morris Plains Family Dentistry
February 04, 2018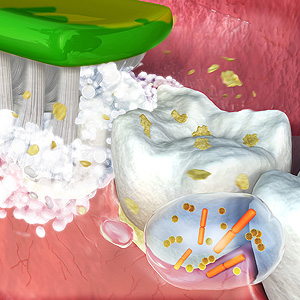 Mention "bacteria" and people begin looking for the germicide. The truth is, though, only a few strains cause disease — the rest are benign or even play a beneficial role.
This may shock you, but your body both inside and out is home to around 100 trillion single-celled organisms, exceeding the number of your native cells by 10 to 1. You won't notice them, though: bacteria are so small they only make up 1 to 3% of your total body mass. And each of us has a unique "microbiome" of micro-organisms: they influence a variety of processes like digestion and metabolism, and some even "teach" our immune systems to distinguish between helpful and harmful bacteria.
Of the 10,000 or more species of bacteria that inhabit the body, perhaps the most studied and understood are in the mouth. We even have a database that catalogs the gene sequences of oral bacteria. And what we've learned has enlarged our understanding of dental disease and how to prevent or treat it.
This new knowledge, for example, confirms that many of our modern lifestyle habits adversely affect oral health. For example, researchers have found higher concentrations of Streptococcus mutans, the bacteria most responsible for tooth decay, in current samples of biofilm than in those from preindustrial eras. The culprit seems to be the modern diet rich with carbohydrates like sugar that bacteria eat. Cigarette smoking can also make the mouth friendlier to disease-causing bacteria.
On the bright side, our growing knowledge of oral bacteria is helping us devise better prevention and treatment strategies. One example is the use of antibiotics to reduce the populations of disease-causing oral bacteria.
The broad, traditional approach kills not only malevolent bacteria, but beneficial strains as well. The approach may also be helping bad bacteria become resistant to common antibiotics. A newer approach targets specific bacteria with custom-designed antibiotics that won't kill other bacteria. There's also increased focus on ways to re-balance a person's normal microbiome if it's become skewed.
As we come to understand bacteria better — both good and bad species — these and other dental care efforts will benefit. With our increasing knowledge of these microorganisms that surround us the future looks bright for better oral health.
If you would like more information on the role of bacteria in oral health, please contact us or schedule an appointment for a consultation. You can also learn more about this topic by reading the Dear Doctor magazine article "New Research Shows Bacteria Essential to Health."